Caution: This book may make your skin crawl!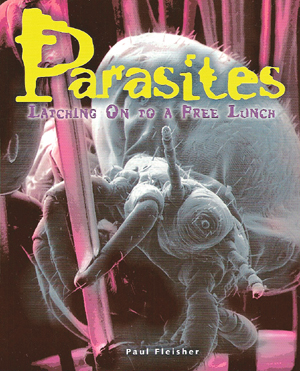 Parasites: Latching on to a Free Lunch, Lerner Publishing Group, 2006,
ISBN 0-8225-3415-0
You'll discover all sorts of unpleasant creatures that can feed on your body–head lice, fleas, ticks, tapeworms and fungi–as well as a huge variety of parasites that feed on the animals and plants all around you. In fact, our world has more parasites than free-living creatures.
Parasites are creatures that live in or on other organisms and draw food from their hosts. Many parasites reproduce very quickly. For example, a single female head louse can lay 300 eggs in a month. Tapeworms can produce millions of eggs in that time. While most parasites are tiny, a few grow to unbelievable size. People have reported intestinal tapeworms more than 30 feet long! And some parasites grow as large as trees.
While some spread disease and cause harm, all parasites are complex organisms with amazing life cycles. To fully understand the living world, we need to understand the lives of parasites.
   NSTA Best Science Trade Books,
   Society of School Librarians International Honor Book