Webs of Life series, Benchmark Books, Marshall Cavendish (a few copies still available) Inquire and order copies directly from Paul Fleisher

Tide Pool, 1997 ISBN 0-7614-0431-7
Coral Reef, 1997 ISBN 0-7614-0432-5
Saguaro Cactus, 1997 ISBN 0-7614-0433-3
Oak Tree, 1997 ISBN 0-7614-0434-1
Salt Marsh, 1998 ISBN 0-7614-0834-7
Alpine Meadow, 1998 ISBN 0-7614-0836-3
Pond, 1998 ISBN 0-7614-0835-5
Mountain Stream, 1998 ISBN 978-0761408383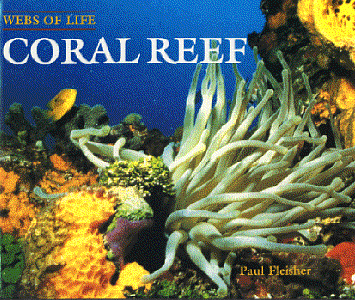 This series offers young readers a glimpse at the ways in which plants and animals interact and affect one another in a specific community.  Each book invites the reader to explore a certain microsystem's environment and the wide range of creatures that have adapted to life there.  Enhancing these descriptions are vibrant color photographs chronicling the changes in the area throughout the cycle of days, seasons and years.
A beautiful illustration of the entire community at the end of each book enables young readers to identify the plants and animals that together create each web of life.