Understanding the Vocabulary of the Nuclear Arms Race, Minneapolis, Dillon Press 1988  ISBN 087518-352-2
Illustrated with photographs and drawings 192 pages, with bibliography Grades 6 and above Hardcover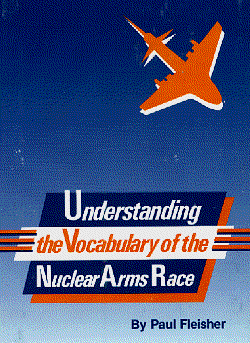 Received a starred review in School Library Journal, April 1988: 
"Maintaining a scrupulously objective viewpoint, Fleisher gives brief, clear definitions . . .representing the special language used by reporters, arms control and military experts and informed citizens.  These include some basic concepts of physics (e.g. chain reaction), material for nuclear bomb production (e.g. lithium, plutonium), types of weapons (cruise missile, Trident), some well-known people (Edward Teller), and other concepts. . . This is highly recommended as a supplement to the standard works on the topic, and as an antidote to news-induced confusion."
The threat of nuclear war has affected every one of us.  At one time there were more than 50,000 nuclear weapons in the world.  Many thousands still remain–enough to destroy the planet many times over.
We hear about nuclear weapons and arms control on the television news.  Often these news reports are hard to understand.  But young people have to know what these terms mean if they are going to be able to understand the nuclear threat.
This book interoduces readers to important terms used to describe nuclear arms, the arms race and arms limitation agreements.  Over three hundred entries are defined in clear and simple language.  Readers can use this book as an alphabetized reference tool, or simply read it all the way through as an introduction to the language and concepts of the nuclear arms race.
Understanding the Vocabulary of the Nuclear Arms Race is now out of print.  However, copies are available at a discount from the author.