Looking Inside, New York, Atheneum, 1991  ISBN 0-689-31483-3
Written with and Illustrated by Patricia Keeler
32 page picture book Grades 2-5  Hardcover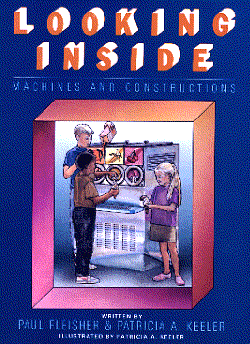 Looking Inside is a journey into the workings of many kinds of man-made objects.  Here is a frozen-yoghurt machine, a clock, an escalator, a street sweeper, a toilet–all familiar from the outside.  But turn the page and look inside.  See what makes each machine do what it is supposed to do.  A simple door lock gives up its inner secrets, as do a camera, a steam iron, even the Statue of Liberty.
Learn to look beyond the obvious.  Examine ordinary things from a new and different point of view.
Looking Inside is now out of print.   Order copies directly from Paul Fleisher